Posted by Laurence Diehl, written by Charlie Parker
[download]
- Play count: 2229
Size: 6,877kb, uploaded 4/5/2011 10:11:58 AM
Genre: Jazz / Playing Style: Bluegrass (Scruggs)
I have been listening to his music for half my life - finally got around to recording one!
---
8 comments on "Charlie Parker's Yardbird Suite"

strokestyle Says:
Thursday, April 7, 2011 @8:07:09 AM
Hey, your a professional!

Don Borchelt Says:
Monday, April 11, 2011 @9:11:08 AM
Damn, this is awesome!

jrawhidejr Says:
Tuesday, April 12, 2011 @8:27:58 AM
Nice Job!

Frailblazer Says:
Tuesday, April 12, 2011 @3:25:43 PM
Laurence - really oustanding!

John M. Says:
Monday, June 20, 2011 @10:43:30 PM
This is one of the coolest things I've heard you do. Nice work; great contribution to the site.



tfaux Says:
Wednesday, November 6, 2013 @10:58:58 AM
Really fantastic Laurence.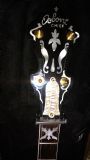 tonwil Says:
Wednesday, January 6, 2016 @10:08:02 PM
This is ridiculous...for someone to be able to play a banjo like that...

The end Says:
Wednesday, September 7, 2016 @12:41:11 PM
Hi Laurence . My original comment posted on your Cherokee take was meant to compliment this one. Sorry about that. I hope you'll understand that having 11 spouses and 56 children may get in the way sometimes.I should have listened to my teacher Tom Slavicek and buy a box of condoms ,back in the day. Well ,too little ,too late . Nice music.What do you use as drum loops. Med.
You must sign into your myHangout account before you can post comments.