Posted by rjs808
[download]
- Play count: 1967
Size: 859kb, uploaded 3/5/2011 4:22:40 AM
Genre: Fiddle/Celtic/Irish / Playing Style: Bluegrass (Scruggs)
I had lots of fun mixing this piece. I'm playing banjo, flatpicked guitar, and rhythm guitar. The bass is MIDI
---
12 comments on "Red-Haired Boy"

Bilbo1 Says:
Saturday, March 5, 2011 @4:38:02 AM
Really enjoyed it Bob, you did a great job. Talk about multi tasking!!

ronhan Says:
Saturday, March 5, 2011 @10:24:45 AM
A Really Fine Job. That tune has been an albatross to me. I would have to borrow someone else's fingers before I could play it.:) Ron

VancePants Says:
Saturday, March 5, 2011 @5:47:23 PM
WHAT!!! No fiddle or mandolin playin' Bob??? Sheesh.... how lame:) Okay... nice job Sir Roberto.

jimh269b Says:
Sunday, March 6, 2011 @9:52:44 AM
great job bob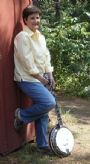 Banjosnob Says:
Wednesday, March 16, 2011 @5:24:51 AM
I am toe-tappin this one. Love it!

Banjowen Says:
Wednesday, May 25, 2011 @3:15:06 AM
Well played Bob, and your timing is absolutely perfect.

ERonshausen Says:
Wednesday, July 20, 2011 @5:37:48 AM
Nice job Bob! I'm just getting into mixing myself, and a great tune to boot. Thanks for rating my first upload!

ERonshausen Says:
Tuesday, July 26, 2011 @12:36:50 PM
That song is still going through my head! I've made some progress on learning it, but I've a long way to go to match your expertise!

David M Says:
Saturday, September 24, 2011 @9:24:05 AM
Sounds great Bob, quality picking...!

justpassinthru Says:
Monday, October 3, 2011 @9:07:34 AM
You banjo picking is outstanding but what I enjoyed more was the guitar. Sounded like Clarence White or Tony Rice to me, and the mixing is pro quality. Fine job!

banjoistic Says:
Monday, July 30, 2012 @10:51:12 AM
Very nice picking, both on banjo and guitar. Thanks for posting this.

banjoike Says:
Thursday, December 27, 2012 @7:09:09 PM
Nice! Garageband???

You must sign into your myHangout account before you can post comments.