Posted by Frailblazer, written by Johann Sebastian Bach
[download]
- Play count: 1437
Size: 685kb, uploaded 2/20/2011 9:55:26 AM
Genre: Classical / Playing Style: Clawhammer and Old-Time
Ric Hollander - A request from my friend Marc Nerenberg. Arrangement: Copyright 2011 Ric Hollander - All Rights Reserved
---
4 comments on "Jesu Joy of Man's Desiring (A Section)"

thombanjo Says:
Sunday, February 20, 2011 @3:34:49 PM
Just beautiful. Your playing is so clean and poignant. The Romero banjo sounds terrific as well. Thanks for posting.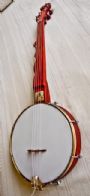 sport Says:
Sunday, February 20, 2011 @11:17:04 PM
Very nice- as usual.
Definitely a piece I must learn
Are you playing in open tuning?
THansk for the post
Frailblazer Says:
Monday, February 21, 2011 @6:39:03 AM
Thank you both for your kind words! Marc will be exploring this piece in detail in an upcoming thread, so stay tuned! I play this one in Double C with a capo at the third fret. I do not capo or retune the 5th string. The combination of using the capo and leaving the 5th tuned to "g" helps create an open, resonant sound.

JanetB Says:
Friday, October 14, 2011 @5:20:34 AM
Thanks for letting me awaken early to this beautiful classical work.
You must sign into your myHangout account before you can post comments.