Posted by Bilbo1
[download]
- Play count: 534
Size: 3,577kb, uploaded 2/6/2011 2:05:11 PM
Genre: Unknown/None Chosen / Playing Style: Unknown/None Chosen
I'm privileged to have collaborated with Joemac on Devil's dream & now with Bob Shea!! Me on banjo & Bob on the flatpicked guitar, he mixed the parts for us. Hope you enjoy it.
---
11 comments on "Boston boy - A collab with Bob Shea"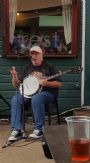 joemac Says:
Sunday, February 6, 2011 @2:09:57 PM
Well played Guys, great feel and timing, yeah a super piece of work, big 5

jimh269b Says:
Sunday, February 6, 2011 @2:47:24 PM
great job liam and bob,proud of you liam

jim109b Says:
Sunday, February 6, 2011 @2:52:20 PM
Hey Liam, Bob...just terrific...Liam - you've those melodicy runs up the neck so smooth. Got me toes a tappin :)

(It was well worth the wait for this stupid hotel internet to download it!)

NickC Says:
Tuesday, February 8, 2011 @2:50:00 AM
Sweeeet tune. Still can't work out how you do these magic collaborations!

Bilbo1 Says:
Tuesday, February 8, 2011 @3:43:09 AM
Cheers guys! Nick, I recorded my part along to a midi file with the headphones on then sent it the rec on to Bob. He recorded his guitar to my banjo and then worked his magic to put it all together. Thats as much as I know about it!!

BanjoFlyboy Says:
Tuesday, February 8, 2011 @8:08:49 AM
Great Liam! You've come a long way brother!

Bilbo1 Says:
Friday, February 11, 2011 @12:13:21 PM
Thanks Danny!

tom elder Says:
Wednesday, February 16, 2011 @7:07:39 PM
mighty fine fellows

David M Says:
Tuesday, March 29, 2011 @1:29:07 AM
Computer wizardry or in the same room, a sweet match of instruments and very cleanly played on both parts, great stuff.

Thanks for posting...David

JanetB Says:
Saturday, March 3, 2012 @10:00:11 AM
Very melodic and nicely done. Did you get your notes from Kenny Baker's playing?

Bilbo1 Says:
Friday, May 11, 2012 @3:20:12 PM
No Janet, I'd never heard this until Bob played it for me. I learned it from him, then simplified it a little!! Real nice tune though.
You must sign into your myHangout account before you can post comments.