Posted by Laurence Diehl, written by Dizzy Gillespie
[download]
- Play count: 1658
Size: 6,492kb, uploaded 1/4/2011 1:02:13 PM
Genre: Jazz / Playing Style: Bluegrass (Scruggs)
A tune associated with the pioneers of bebop, Charlie Parker and Dizzy Gillespie. Written over the changes to the 20's pop song 'Whispering'.
---

ELWOOD Says:
Tuesday, January 4, 2011 @1:19:48 PM
Really my favorite L D banjo bounce, this is why Iam here and not at the "Guitar " site. great changes very inventive trading eights. Id buy a cd of this stuff for my road trips .. Nice music making Laurence...................SLK martin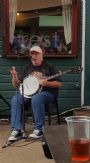 joemac Says:
Wednesday, January 5, 2011 @12:43:29 AM
Wonderful again Laurence.smooth man.
Greg Connor Says:
Wednesday, January 5, 2011 @3:35:34 PM
Unbelieveable.

Sometimes I feel like a little kid in a swimming pool floating in my inflateable duck watching an Olympic swimmer go by!
You must sign into your myHangout account before you can post comments.