Posted by Don Huber
[download]
- Play count: 497
Size: 1,807kb, uploaded 1/4/2011 8:41:59 AM
Genre: Old Time / Playing Style: Clawhammer and Old-Time
Some of my favorite old time WV banjo players used resonator banjos, so I went with my old Gibson. Linda Jo is capoed three playing E minor to work with my G modal setting. We're trying to be intense.
---
7 comments on "Yew Piney Mountain"

Feo Says:
Tuesday, January 11, 2011 @9:28:58 AM
This is one of my favorite WV fiddle tunes on the AEae tuned fiddle ... I'll have to see if there's a way to sync up my fiddle with your banjo tunings ...

Feo Says:
Tuesday, January 11, 2011 @9:29:51 AM
Oh yeah, I forgot to add that I like Linda's guitar bass effect on this tune too...
BanjoCrafter Says:
Thursday, February 3, 2011 @8:49:06 PM
soundin' good

Don Borchelt Says:
Tuesday, January 20, 2015 @9:18:53 AM
A fine job of picking, Don. Those old WV fiddlers all played this tune a little different from one another.

JanetB Says:
Thursday, February 26, 2015 @7:12:47 PM
I'm discovering the truth of Don's statement about different ways this tune can be played. This one is nicely modal but cheerful.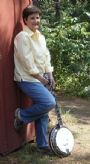 Banjosnob Says:
Thursday, January 4, 2018 @7:37:58 AM
This is the most frustrating song to learn....the B part is messing me up...I can't get the "crooked melody" in my head. I will keep listening to it and realize it is played differently in different region. Fiddlers revenge!! Ha! Don, yours is the first one I can actually follow and has some pattern to it. Thanks for posting.

Don Huber Says:
Monday, January 15, 2018 @12:02:00 AM
I'm honored that you like it. My playing is rather spare compared to those who "put all the notes in". A lot of people play the more complex "Garfield's Blackberry Blossom" which has elements of Yew Piney in it. John Harford made a recording of "Blackberry" in his style of mixing in spoken word storytelling. You might enjoy that too. Thanks!
You must sign into your myHangout account before you can post comments.