Posted by Laurence Diehl, written by Jimi Hendrix
[download]
- Play count: 2776
Size: 5,991kb, uploaded 12/19/2010 11:48:50 AM
Genre: Rock / Playing Style: Bluegrass (Scruggs)
A joint project with The KIDD and John Boulding. Kidd is on drums & bass, John is on Dobro.
---

ELWOOD Says:
Sunday, December 19, 2010 @12:41:28 PM
Oh , did that take me back to my Blues Band days, Unabashed blues band enthusiasim, so sweet so creative .........I loved it......ELWOOD

ronhan Says:
Monday, December 20, 2010 @11:22:16 AM
Wow! When I used to listen to Hendrix I made fun of a friend who started playing the banjo. Now the two meet. I'm not sure if you guys are visionary or just crazy, but the word talented trumps them all. Great! Ron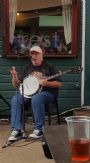 joemac Says:
Tuesday, December 21, 2010 @6:20:35 AM
Now this has to be one of the best colabs ever, not saying this cause you guys are mybuds, i freakin mean it.......superb, and as for the kidds drumming.............its the best. ten stars guys.

greenhorn Says:
Tuesday, January 11, 2011 @11:58:04 AM
Beautifully done! I've given it several listens, and it keeps getting better. South Austin Jug Band did a great version that mostly featured the fiddle.

rgoad Says:
Saturday, December 1, 2012 @12:46:56 PM
Only 23 Likes? How come only 23 people have heard this?

pwshunts24 Says:
Saturday, April 20, 2013 @10:07:32 AM
May i please have the tabbed banjo part. Hands and knees begging here
Laurence Diehl Says:
Monday, April 22, 2013 @10:42:19 AM
I'm sorry, I just wouldn't know where to begin with writing tab.

Jonny5 Says:
Saturday, February 6, 2016 @9:10:10 AM
A great addition to my playlist. Thanks for sharing this effort guys.
You must sign into your myHangout account before you can post comments.