Written/Posted by Greg Connor
[download]
- Play count: 788
Size: 4,466kb, uploaded 11/12/2010 7:00:40 AM
Genre: Folk / Playing Style: Other
Inspired by Astronomers around the World, and prompted by my own actions....... I left a warm bed 4 times this past week before daylight to observe Venus and Saturn in the morning sky.
---
Greg Connor Says:
Friday, November 12, 2010 @7:02:40 AM
Crazy People

Crazy people, wander round all night
Looking toward the Heavens
At little specs of light
Dragging round their telescopes
And Binoculars
All the tools they need to gaze among the stars

Crazy people, look at what they do
Deprive themselves from sleep
To enjoy the view
And they will tell you, if you do it right
You will have yourself an Earthly delight


And Venus is closer than their families
And Saturn is considered their best friend
Universal life is what they're living
And the party just never seems to end


Crazy people, living life on top
Until the clouds come rolling in
To make them stop
But they just wait, for clearer skies
And those crazy things they do aren't compromised


ELWOOD Says:
Friday, November 12, 2010 @7:46:24 AM
Great song, love your work..I am a fan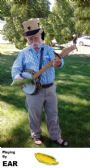 mike gregory Says:
Monday, November 15, 2010 @5:01:06 AM
Gentle melody, friendly lyrics, and a nice instrumental arragement.
Well done.
You must sign into your myHangout account before you can post comments.