Posted by benjo75
[download]
- Play count: 1896
Size: 1,694kb, uploaded 11/3/2010 9:03:19 PM
Genre: Bluegrass / Playing Style: Bluegrass (Scruggs)
---
6 comments on "Clinch Mountain Backstep"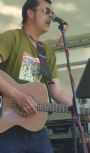 Elwyn 1979 Says:
Thursday, November 4, 2010 @2:25:13 AM
Nicely done, I like the way you pace it and not play too fast.

Wesco Says:
Thursday, November 4, 2010 @6:25:51 PM
I agree with Elwyn 1979 when he said: "not played too fast". Most versions are sacrificing quality for speed. Well Done benjo75!

benjo75 Says:
Thursday, November 4, 2010 @9:16:09 PM
Thank you both. That one doesn't need to be too fast to be good.

zeke_w15 Says:
Friday, November 5, 2010 @1:09:03 AM
Very well done enjoyed that very much, thanks..

RatLer Says:
Tuesday, November 9, 2010 @4:39:02 AM
Very good...I like that nice even flow...

pickNgrin Says:
Friday, February 25, 2011 @8:51:26 PM
Awesome tone! Well done.
You must sign into your myHangout account before you can post comments.