Posted by royce
[download]
- Play count: 1259
Size: 3,155kb, uploaded 1/30/2007 2:26:19 PM
Genre: Unknown/None Chosen / Playing Style: Unknown/None Chosen
A cool tune I created last year. It's in a minor key. Not your typical banjo tune.
---
5 comments on "Seminole Uprising"

Bob Robert Says:
Sunday, February 18, 2007 @8:49:49 PM
"A cool tune" - I will wholeheartedly second that. It's a very cool tune.
Bob

varlin Says:
Monday, February 26, 2007 @8:04:43 AM
Would be very grateful for the tab of seminole uprising if possible. great tune

many thanks

varlin

machinist Says:
Saturday, May 5, 2007 @8:34:53 PM
I love this tune, I listen to it often. all of you music is great
Larry Brown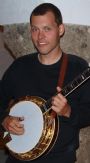 Violanjo Says:
Monday, June 2, 2008 @2:11:38 AM
Hi Royce,

This is a great piece. Your banjo sounds very good,too.

Manuel

afchap Says:
Tuesday, June 23, 2009 @1:41:02 PM
GO NOLES!!!
You must sign into your myHangout account before you can post comments.