Posted by Hendog1958, written by Jerry Williamson
[download]
- Play count: 1333
Size: 2,978kb, uploaded 8/9/2010 3:29:28 PM
Genre: Bluegrass / Playing Style: Bluegrass (Scruggs)
This was an original song on a 1977 album ( of the same name) by The Outdoor Plumbing Company. We recorded this version in 2008 when I was with Breaking New Ground. (me on the banjo and doing the tenor).
---
8 comments on "Moonshine Mountain"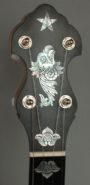 Paul Gorman Says:
Monday, August 9, 2010 @9:30:17 PM
Jerry:

I like this a lot. Great voice and fine picking. I have a Paragon but I never learned to play it right so I wanted to know how it could sound. Very rich but not a lot of bottom. Were you capoed up? Thanks for the sample.

capsholler Says:
Thursday, August 12, 2010 @9:35:34 PM
I've always had an affection for moonshiner songs. Good playing and harmony. I always like the Outdoor Plumbing too.

maximomark Says:
Saturday, August 14, 2010 @2:19:47 PM
Awesome song, guys. Hope you continue to make music for a long time. Nice vocals, excellent banjo sound!!!

Hendog1958 Says:
Sunday, August 15, 2010 @7:46:27 AM
Paul, i was capoed at "C" position. Pretty high up the neck. Hard to get " true" "bottom" sound at that position. When un-caped the banjo has a deeper sound. I'm not crazy about the un-frosted black head, (takes away some of the "crack") but it sure does look Boss. Capsholler, maximomark 'preciate the comments. Unfortunately our mandolyn player died a couple of years ago we never could get it back together after that. I've just been driftin'' around looking for gigs with local bands for the past two years.

Dogh Says:
Saturday, August 28, 2010 @4:56:45 PM
Pretty good job there boys. First version of this song I've heard since the original album, which I have. This song deserves more recognition in the bluegrass community as a true classic. The lyrics are wonderfully written. Visions of Popcorn Sutton as I listen to it : >).

Mary Andrew Says:
Friday, September 3, 2010 @10:29:15 PM
8 Thumbs up Hendog. I once married a man because I fell in love with his Wildwood banjo. He says it's mine only when he's dead!
We' re good friends now and I get to play it as a X-mas gift.
Love is blind but it's not deaf. Working on "Flying Duchman" song.
Keep in touch.
Mary

banjodawg Says:
Sunday, October 31, 2010 @7:08:23 PM
Just came back into the house after playing the banjo next to a campfire in our woods for few hours. I logged into BHO and checked out the banjos for sale, found your listing and the associated sound track. Wow! What a great sound.

RatLer Says:
Tuesday, November 16, 2010 @8:44:26 AM
First time I 've heard that song...very nice pickin' and singin'....
You must sign into your myHangout account before you can post comments.