Written/Posted by Laurence Diehl
[download]
- Play count: 1866
Size: 4,161kb, uploaded 6/14/2010 9:51:02 AM
Genre: Bluegrass / Playing Style: Bluegrass (Scruggs)
© Laurence Diehl 2010
Marrying up my two musical loves - banjo and Stratocaster!
And giving a nod to the 2 guitar greats - Albert Lee and Jerry Reed.
---
6 comments on "Nashville Exit"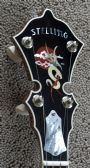 Patrick P. Says:
Monday, June 14, 2010 @11:15:55 AM
I love it !!!

ronhan Says:
Monday, June 14, 2010 @5:43:34 PM
Great job! I've never heard it before. Ron

dgill Says:
Monday, June 14, 2010 @6:01:03 PM
Mighty fine pickin Laurence. That Kidd just does an awesome job putting these things together. Hats off to you both.

Tuneager Says:
Thursday, October 14, 2010 @8:20:41 PM
You've written some great originals, this is really a breakdown to me, but there's some great reasons for exiting Nashville as well.
Mighty nice electric guitar work there too, is that you on guitar too?

banjoplayer54 Says:
Tuesday, October 4, 2011 @1:34:20 AM
NICE !!! :O)

jeeep1985 Says:
Friday, April 20, 2012 @3:36:22 PM
Awesome Laurence!
You must sign into your myHangout account before you can post comments.