Posted by Tom Berghan
[download]
- Play count: 4014
Size: 5,158kb, uploaded 1/30/2010 11:47:22 PM
Genre: Old Time / Playing Style: Clawhammer and Old-Time
Tom Berghan Clawhammer - Banjo: Double C, Guitar: Open C - - Joe Coleman, a shoemaker, was accused of stabbing his wife to death near the town of Slate Fork, Adair County, Kentucky, as recorded in the Burkesville Herald Almanac for 1899. Convicted on circumstantial evidence and the testimony of his sister-in-law who was living with them at the time, Coleman was tried in nearby Cumberland County and sentenced to death. While being driven to the place of execution in a two-wheeled ox cart, Coleman sat on his coffin and played a tune that has come down as "Coleman's March." Coleman protested his innocence to the last. Also attached to the tune is the legend that before Coleman was hanged he offered his fiddle to anyone who could play the tune as well as he, and at least one source identified a Kentucky fiddler named Franz Prewitt as the recipient. Prewitt's descendants remembered him as having been indeed a fine fiddler. The tune dates back to the 18th century British Isles. It is known by various names, one being "Old Hickory" after President Andrew Jackson.
---
14 comments on "Coleman's March"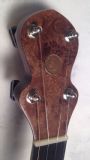 banjos-n-beer-boy Says:
Sunday, January 31, 2010 @10:40:22 AM
tom- that was great! i really enjoyed listening to that one. nice and cleanly played without being too over ornamental.

strokestyle Says:
Sunday, January 31, 2010 @10:42:00 AM
Absolutely lovely!

mainejohn Says:
Sunday, January 31, 2010 @4:40:19 PM
A haunting tune and you do it superbly!

Don Borchelt Says:
Sunday, January 31, 2010 @6:09:22 PM
A splendid performance, very fluid and resonant. The guitar adds a very dulcimer like accompaniment that balances well with the banjo. Exquisite!

retired happily Says:
Sunday, January 31, 2010 @7:34:56 PM
If I could play that I would find my life complete. The story is also very intreaging.

retired happily Says:
Sunday, January 31, 2010 @7:35:50 PM
One more thing Tom. Who is the picture of or do you know

Tom Berghan Says:
Sunday, January 31, 2010 @8:59:23 PM
Danny (retired happily),
It would be my pleasure to teach it to you. I will always do my level best for a Veteran. Thank you for your service! Coleman's March is a pretty tune indeed, and it is no harder than walking.

I assume by "picture" you mean my avatar. That is the famous Gus Cannon of Cannon's Jug Stompers (obscure now, but once famous). When I was a teenager growing up in the mid to late sixties I collected all of Gus's recordings. He was my hero. Then, when I was 18, I hitch-hiked to Memphis Tennessee to study music with Gus. I loved Gus very much and I still do now. Gus wrote many great songs you've probably heard but maybe not know he wrote. Remember "Walk Right In, Sit Right Down?" That is one of Gus's songs! My favorite is "Poor Boy, Long Ways from Home.

http://www.findagrave.com/cgi-bin/fg.cgi?page=pv&GRid=11647


dgill Says:
Monday, February 1, 2010 @4:02:35 AM
Very tranquil and peaceful tune. I will enjoy this one each time I think if it.

ELWOOD Says:
Monday, February 1, 2010 @5:23:30 PM
Good one Tom

jimh269b Says:
Monday, June 7, 2010 @5:33:59 PM
my old buddy don plays that tune his very very good,dam yours is to,great job tom

Josh Turknett Says:
Saturday, February 5, 2011 @7:25:54 PM
I know I'm a little late to the party hearing this one, but had to comment. This is exquisite. I've got goose bumps. It's really beyond words, so I'll just shut up now : )

And why the heck haven't I tuned my guitar to open C lately?! Thanks for reminding me!

darryl k. Says:
Thursday, April 16, 2015 @6:40:15 PM
You are rapidly becoming one of my favorite players Tom. You have the expressive touch of a true artist.

mainejohn Says:
Friday, April 17, 2015 @6:50:58 AM
I'm partial to this tune not only because of the name, but because it's so haunting, and you do a superb job. I see I commented 5 years ago! You have quite a following.
Danny D Says:
Tuesday, September 22, 2015 @1:59:44 PM
Instant fave! Great sounding banjo too!
Thank you for the music you provide.
You must sign into your myHangout account before you can post comments.