Posted by dgill
[download]
- Play count: 1030
Size: 585kb, uploaded 1/30/2010 5:25:24 PM
Genre: Bluegrass / Playing Style: Bluegrass (Scruggs)
This is the first song I learned on the Banjo. Hope you enjoy and let me have all the feed back you can offer. Lord knows I need the experaince and there is a bunch of it on this site.
---
7 comments on "Bile Them Cabbage Down"

jimh269b Says:
Saturday, January 30, 2010 @9:52:40 PM
now there you go donnie soundin great buddy keep pickin

Bilbo1 Says:
Sunday, January 31, 2010 @2:25:21 AM
Well done Donnie, it's good to hear you play. Keep em coming!

skeller77 Says:
Monday, February 1, 2010 @3:06:30 PM
Great job Donnie, nice smooth roll and good timing, let's hear some more. : )















dgill Says:
Monday, February 1, 2010 @3:11:54 PM
Thanks guys, I appreciate all your comments. I will use your motivation like fuel to a tractor.

BanjoFlyboy Says:
Monday, February 1, 2010 @7:14:11 PM
Good job Donnie. There's no stopping you now.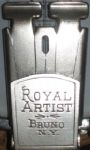 RB-1 Says:
Wednesday, February 3, 2010 @3:35:59 PM
Well done! The timing is strikingly precise for a total newcomer. Took me 8 years to get it that good.

banjobubby Says:
Tuesday, April 13, 2010 @4:38:47 PM
sounds good! and thanks for the last video comment means alot too me! and i have all sorts of respect for my jo' it really is a beautiful and universal instrument, thanks for the insperation!!!!
You must sign into your myHangout account before you can post comments.