Posted by David M
[download]
- Play count: 1891
Size: 2,358kb, uploaded 1/28/2010 10:45:38 AM
Genre: Other / Playing Style: Other
Judy Garland on speed in G.
---
8 comments on "Somewhere Over The Rainbow"

spinley Says:
Thursday, January 28, 2010 @11:25:14 AM
nice job David I enjoyed it
Stuart

David M Says:
Saturday, January 30, 2010 @1:20:43 PM
Thanks Stuart, I appreciate your comment..! My first few efforts at recording and posting for the site. I'm only on Dial up connection so it's good to know they've gone through ok and other's can hear them.

Best wishes, David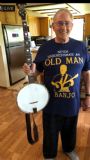 hudie Says:
Saturday, March 26, 2011 @5:24:14 PM
Cool! Very nice.

David M Says:
Sunday, March 27, 2011 @11:41:40 PM
Thanks Ron...trying hard here..!

P.S...got myself Broadband now so I can hear and watch all videos.. ;-)

Paul Roberts Says:
Friday, September 16, 2011 @7:21:08 AM
Nice rendition. I usually hear people playing this very slowly and it's quite refreshing to hear you put some drive behind it. Artful ending, too.
PauL

David M Says:
Saturday, September 17, 2011 @10:16:15 AM
Thanks again Paul, I was wondering if I strayed away from the straight melody a bit too much sometimes but it all seemed to come back together at the end so I just recorded it..!... :-)

rickhayes Says:
Monday, July 30, 2012 @7:52:16 AM
I'll echo Paul's comments. Nice.

David M Says:
Tuesday, July 31, 2012 @3:10:40 AM
Thanks Rick, I heard someone on the BHO play the tune up tempo some time ago and thought I'd give it a go. One of my favourites now to loosen the hands up.. ;-)
You must sign into your myHangout account before you can post comments.