Posted by Tom Berghan
[download]
- Play count: 2816
Size: 1,887kb, uploaded 1/2/2010 10:15:09 PM
Genre: Old Time / Playing Style: Clawhammer and Old-Time
This dance tune was composed in 1846 as "Jenny Lind's Lieblings-Polka," attributed to the composer Anton Wallerstein, commemorating the "Swedish Nightingale," Johanna Maria "Jenny" Lind (1820-1887), an operatic soprano from Sweden. Jenny was so popular in Europe that P.T. Barnum signed her for 150 performances in the United States at $1,000 per show (approximately $30,000 per show at today's rate). This is my own arrangement for 5 string banjo. If anyone is interested in the tablature I have uploaded it to the BHO. Played clawhammer, recorded January 2, 2010. Chuck Lee Vintage Ovilla 2008, Kat Eyz Maple/Purpleheart bridge, Vellum Calfskin head. Pitch @415
---
9 comments on "Jenny Lind's Polka"

marsan29 Says:
Saturday, January 2, 2010 @10:42:53 PM
So very nice. It is clean, accurate and the timing and tone are impeccable. You have a gift my friend.

Mark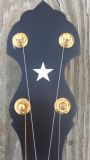 RWJonesy Says:
Sunday, January 3, 2010 @1:21:17 AM
I love it !

boyratchet Says:
Sunday, January 3, 2010 @3:30:14 AM
Sweet.

dkmarshall Says:
Monday, January 25, 2010 @7:15:53 AM
Gorgeous!

jimh269b Says:
Monday, June 7, 2010 @5:37:47 PM
very nice rolls on that one tom,just great

mainejohn Says:
Sunday, June 20, 2010 @4:27:23 PM
What a refreshing change from the banjo being used as an exhibition of speed and endurance!

Jenny Foo Katatu Says:
Thursday, February 3, 2011 @10:09:42 AM
That was exquisite! Such beautiful tone! This piece has such a pure classical feel to it. I'm inspired.

JanetB Says:
Saturday, July 2, 2011 @12:52:32 PM
Such a nice version, Tom. Yours and Bill Monroe's!

reedbanjo Says:
Thursday, February 16, 2012 @7:39:20 PM
Very, very lovely.
Many years ago a woman came to me after I had played this tune in Washington, D.C.. and she invited me to come to her home to see an old guitar. It turned out to be Jenny Lind's personal guitar, complete with volumes of newspaper articles from the 1890s papers from the cities in the U.S. where she was doing concerts. The lady offered the guitar and all the historical documents to me.. for free ..but at 19 years old, I was totally focused on the BANJO - and said, "oh - no thank you." A few years later I returned to the home, and the lovely lady was deceased. The daughter inherited everything and will not even discuss showing the guitar now to anyone. We learn through our mistakes, eh ? reedbanjo@verizon.net
You must sign into your myHangout account before you can post comments.