Posted by banjopogo
[download]
- Play count: 2964
Size: 2,216kb, uploaded 10/27/2006 1:57:03 PM
Genre: Old Time / Playing Style: Clawhammer and Old-Time
The fiddle starts, then the banjo chimes in....
---

frailin Says:
Wednesday, November 1, 2006 @1:08:35 PM
Love that tune! Nice interpretation.
Thanks for sharing!

Don Borchelt Says:
Saturday, January 13, 2007 @4:05:04 PM
Hate that tune! But that's because I got really tired of the standard bluegrass version that gets played way too much. You do a very nice job with it. Just a banjo and fiddle, sounding great.

NWBanjo Says:
Saturday, May 12, 2007 @3:20:37 PM
Yeah! Now that's some tasteful playing!

Bill Rogers Says:
Sunday, July 20, 2008 @9:52:24 PM
A truly "old-time" version--no hint of bluegrass. To my ear, it has a real West Virginia sound, especially the fiddle. Very nice.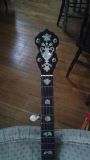 jasper Says:
Saturday, January 1, 2011 @9:39:51 AM
Thanks ,I loved it, I just learnt it on fiddle, thanks again!!
You must sign into your myHangout account before you can post comments.