Posted by Greg Connor
[download]
- Play count: 236
Size: 5,720kb, uploaded 10/8/2009 11:47:22 AM
Genre: Folk / Playing Style: Other
Here is my October contribution, an original song inspired by watching the Elk in Rocky Mountain National Park.
---

darryl k. Says:
Thursday, October 8, 2009 @12:14:19 PM
Nice song, nicely produced. I used to live in Banff many years ago and had a job for the government maintaining park facilities. Many a frosty morning we'd be out somewhere in a campground or something, and hear the Elk.
Brings back memories. Thanks for posting.
darryl

Laurence Diehl Says:
Thursday, October 8, 2009 @2:22:46 PM
Greg, you're getting better all the time...you definitely have your own distinctive sound now and it makes for real nice listening! Thanks for posting!

kcjc69 Says:
Friday, October 9, 2009 @8:15:04 PM
Another great tune Greg.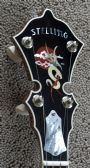 Patrick P. Says:
Saturday, October 10, 2009 @1:42:07 AM
Great mix, graet voice and very nice arrangement, bref, tout bon !
Ottawa Says:
Saturday, October 10, 2009 @7:40:36 PM
I really love the video you were able to shoot, Greg. -And a very nice sounding tune with a unique melody to it. The song suits the video very well in terms of ambiance and lilt.
You must sign into your myHangout account before you can post comments.