Posted by Laurence Diehl
[download]
- Play count: 3131
Size: 1,620kb, uploaded 10/3/2009 4:11:14 PM
Genre: Traditional / Playing Style: Bluegrass (Scruggs)
Everyone has their own version of this. Here's my take on it
---
11 comments on "Blackberry Blossom"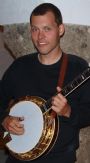 Violanjo Says:
Sunday, October 4, 2009 @2:00:41 PM
Nice melodic runs! Did you improvise that? I like the chromatic stuff and the chord substitutions. Is that recording device a zoom H4? The click sounds just as mine.

John Kuhn Says:
Monday, October 5, 2009 @10:27:25 AM
Man! In a word...KILLER!...Ya really gave this tune new life expressing some great improv! OH, yeah Manuel this IS Laurence..LOL. Glad ya posted this. A job well done!
Laurence Diehl Says:
Tuesday, October 6, 2009 @12:06:58 PM
Forum thread:
http://www.banjohangout.org/forum/topic.asp?TOPIC_ID=159436

Paul Roberts Says:
Sunday, February 7, 2010 @1:02:40 PM
Quite beautiful. I never knew this one had a gazelle in it, until hearing your version.

frihauf Says:
Wednesday, February 10, 2010 @11:15:23 AM
That is so much better than how I play it. I am going to have to rework that one. Thanks.

Ben

Tuneager Says:
Thursday, October 14, 2010 @7:53:00 PM
Great Blackberry Blossom, man, you're all over the neck with variations, very cool.

jim109b Says:
Tuesday, December 7, 2010 @2:50:28 PM
Now I'm going to have to chuck away the Alan Munde version I'm learning and do this one....well, maybe one for the future :) Love all the melodic variations, and little harmonic pinged in..very tasteful!

Bilbo1 Says:
Tuesday, December 7, 2010 @3:01:20 PM
WOW, that was different! Very nice
rickshunter1 Says:
Tuesday, December 7, 2010 @6:37:58 PM
Amazing job its like a whole new song

maddogonbanjo Says:
Monday, January 24, 2011 @11:23:23 AM
I definitely have to study your version, it's so much better then mine. Thanks for uploading all the new notes, you really have a talent for reworking an old tune! More... more!

jim109b Says:
Friday, April 8, 2011 @9:57:23 AM
I'd forgotten about this one...December is such a long time ago ;)

Glad you reposted a link in the BB thread!
You must sign into your myHangout account before you can post comments.