Posted by Chris Cooper
[download]
- Play count: 2170
Size: 627kb, uploaded 9/14/2009 11:56:10 AM
Genre: Bluegrass / Playing Style: Bluegrass (Scruggs)
The guys in my band had asked me to learn this one. I worked this up in straight scruggs style im quite pleased with it........ I think. LOL
---
7 comments on "Cherokee Shuffle."

John Kuhn Says:
Monday, September 14, 2009 @1:31:50 PM
Some clean pickin for sure! Good lick phrasing going on. Are ya sayin all ya wanna say? Good job!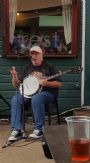 joemac Says:
Monday, September 14, 2009 @9:44:48 PM
Nice, go for a second break mate with some of your blues runs, be like icing on the cake...five stars young man.

myork1 Says:
Tuesday, September 22, 2009 @4:14:52 AM
Smmmoooth...I could listen to that one for awhile. Very nice Chris. Kudos to the band for pulling that one out of you. :)

davepicks5 Says:
Tuesday, January 5, 2010 @2:51:45 PM
Chris..........Novice, naw, you are way behind that......great picking. Bet you have listened to Huber on the Team Flathead cd, I hear the approach in your rendition. NICE WORK.

davepicks5 Says:
Tuesday, January 5, 2010 @2:52:55 PM
CORRECTION......YOU ARE WAY BEYOND .........a novice, I am just literary challenged.

Chris Cooper Says:
Wednesday, January 6, 2010 @4:54:55 AM
Thanks to all of you guys for your kind words and constuctive critisim. Its encouragement indeed to be praised so highly by players of your calibre.

Dave I had been asked by the guys in the band to get to work on this one. I had heard a few melodic versions, that I have to say left me a little "cold", but i'd never heard anyone do it in straight scruggs style. I felt that the melody could be interpreted nicely within the scruggs style that I love to play and hear.

I had worked up a version by myself that wasn't to dis-similar to steve's version on the Team Flat-head CD although I hadn't heard steve's version yet. I found a short clip on the Huber website of Steve playing this version presumably to market the Team Flathead CD. I found that numerous inflaections he had made, left the melody momentarily to make the most of that driving forward roll and I liked the way that made the tune feel. I tried to incorporate that feel into my vesion as much as possible. Im glad you can hear that in it!

Flatiron53 Says:
Tuesday, February 23, 2010 @11:15:59 PM
Outstanding break! One of my all time favorite tunes.

Mark
You must sign into your myHangout account before you can post comments.