Posted by Laurence Diehl
[download]
- Play count: 2023
Size: 1,653kb, uploaded 8/30/2009 5:20:59 PM
Genre: Bluegrass / Playing Style: Bluegrass (Scruggs)
As far as I know, it was Don Reno who introduced LRG to the 5-string banjo and it has been a staple of the swing repertoire ever since.
---
12 comments on "Little Rock Getaway"

John Kuhn Says:
Sunday, August 30, 2009 @5:58:40 PM
TOO COOL! and the clocks only on .40sec.LOL. Yeah, heard some new stuff I hadnt heard B4. Tasty improv for sure. Yeah , just kept gettin better as the clock counted! AND delivered with the fine touch that accompanies all your arr's. Enjoyed it!! John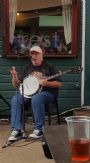 joemac Says:
Monday, August 31, 2009 @7:48:44 AM
Simply the best, i never want to play my version again!!!.........super Laurence.

Don Borchelt Says:
Monday, August 31, 2009 @8:21:13 PM
Wow, is this sweet! I'm not going to bother trying to learn it. Great touch, tone, timing, the whole deal.

Rick Woods Says:
Tuesday, September 1, 2009 @12:32:44 AM
Another great tune artfully played by the MASTER. Thoroughly enjoyed it!

Banjo23055 Says:
Tuesday, September 1, 2009 @1:55:03 PM
Absolutely fabulous - great improvising
Ellett

pickinon5 Says:
Tuesday, September 1, 2009 @3:17:12 PM
Wonderful playing Laurence, enjoyed it very much.
Laurence Diehl Says:
Thursday, September 3, 2009 @8:34:08 AM
Forum comments:
http://www.banjohangout.biz/forum/topic.asp?TOPIC_ID=156627

Guy Says:
Thursday, September 10, 2009 @1:05:28 PM
Perfectly wonderful! Also, an old friend of mine used to play this, brings back memories. I'll have to learn a harmony and duet it with Joe. Nice backup too, by the way.

Wes Lassiter Says:
Tuesday, December 15, 2009 @8:04:44 PM
Your playing is wonderful!!

thombanjo Says:
Thursday, September 30, 2010 @1:25:54 PM
I am enjoying listening to your tunes very much. Such clarity and tasty playing. Thanks for posting your tunes. Have you ever played the clarinet?

Tuneager Says:
Thursday, October 14, 2010 @8:11:06 PM
I love this tune, always have. It's a tough tune to play, I always liked playing around with it, but never recorded it or found anyone who would play it with me. I always think of Carl Jackson's version, but yet you took off into your own solo and admonishments, great job!


randallaustin Says:
Thursday, January 13, 2011 @2:51:19 PM
this is awesome i like playing it too, i also enjoy the Byron Berline Band's version with John Hickman on banjo
You must sign into your myHangout account before you can post comments.