Posted by Banjowen
[download]
- Play count: 356
Size: 3,201kb, uploaded 8/20/2009 11:05:24 AM
Genre: Unknown/None Chosen / Playing Style: Bluegrass (Scruggs)
Another self-penned tune but in a different tuning (g C G C D#) which I feel gives it a kind of "spooky" sound, hence the title.
---
5 comments on "Ghost Mountain"

Jane C Says:
Thursday, August 20, 2009 @3:37:28 PM
Owen you already know I'm one of your biggest fans, so you'll also know ...I love this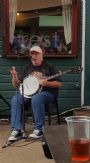 joemac Says:
Friday, August 21, 2009 @4:47:05 AM
good stuff, well played mate.

Banjowen Says:
Friday, August 21, 2009 @6:12:30 AM
Thanks Jane, and Joe, it's appreciated

Don Borchelt Says:
Saturday, August 29, 2009 @3:58:00 PM
Wow, open C minor tuning. Neat. Very cool, Owen, fine job.

Banjowen Says:
Sunday, August 30, 2009 @4:06:04 AM
Thanks Don, thats a real compliment coming from such a fine player as yourself....
You must sign into your myHangout account before you can post comments.