Posted by TopCat
- Play count: 429
Size: 1,869kb, uploaded 7/14/2009 2:15:48 PM
Genre: Unknown/None Chosen / Playing Style: Bluegrass (Scruggs)
Getting back into the practice after a few weeks' break. Jesse James at the 17 month mark.
---

George Moughton Says:
Wednesday, July 15, 2009 @2:02:37 AM
Sounds good to me kid!!!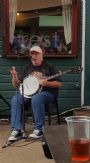 joemac Says:
Wednesday, July 15, 2009 @3:03:50 AM
WOW, thats great...no need for concern there then...five big ones.
Edthebanjo Says:
Tuesday, December 22, 2009 @3:22:10 PM
That is extremely solid timing there, I bet you practice with a metronome a lot.

TopCat Says:
Thursday, December 24, 2009 @10:09:23 AM
Hey Ed, howaya? No I don't practise with the nome at all - I ought to do. I recorded this one back in July - got it down much better now. Merry Christmas! M
You must sign into your myHangout account before you can post comments.