Posted by Don Borchelt
[download]
- Play count: 2005
Size: 2,387kb, uploaded 7/14/2009 3:41:30 AM
Genre: Old Time / Playing Style: Bluegrass (Scruggs)
This is a tape I made back in the mid-80s. The guitar player is Jim Murphy, who at the time was a graduate student at MIT. I've lost touch with Jim, last I heard he was working at Hannaford. The banjo is tuned in double C, gCGCD.
---
6 comments on "Billy in the Lowground with Jim Murphy"

jimh269b Says:
Tuesday, July 14, 2009 @11:18:06 AM
now thats one dang fine job don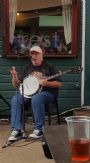 joemac Says:
Tuesday, July 14, 2009 @12:23:33 PM
Great Playing Don !! one of my favorite tunes, great to hear it....Joe

fergaloh Says:
Wednesday, July 15, 2009 @6:53:50 AM
I really love these old recordings ya keep producing. Great life in them

diarmaid Says:
Friday, July 17, 2009 @8:30:52 AM
brilliant stuff Don!

John Kuhn Says:
Friday, July 17, 2009 @5:39:25 PM
Yeah man sounded COOL in that tuning..Lots of melody too ! Enjoyed the gtr /banjo in unison.(almost thought it was ED on gtr it fit so well together..LOL). Yeah, unique soundin arr for sure!..John

NMD Says:
Sunday, August 23, 2009 @11:28:27 AM
Outstanding!
You must sign into your myHangout account before you can post comments.