Posted by Jane C
[download]
- Play count: 974
Size: 1,828kb, uploaded 6/27/2009 7:15:25 AM
Genre: Unknown/None Chosen / Playing Style: Bluegrass (Scruggs)
Not played by me ( I wish) but by my good friend Joemac on the little John Grey he gave to me, to demonstrate just how sweet it is..... and it is.
---
7 comments on "Clinch Mountain Back Step"

Trebor Says:
Saturday, June 27, 2009 @8:29:28 AM
It certainly sounds nice, and Joe certainly can play, put the two together and you have a hit. A sweet sounding banjo for a sweet sounding girl ,

Bluegrass-Gibbs Says:
Saturday, June 27, 2009 @9:52:01 AM
it sounds so lovely Jane! it has great character and tone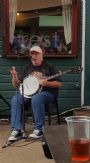 joemac Says:
Sunday, June 28, 2009 @2:29:52 AM
Jane, thank you for posting this, enjoy your banjee.....joe and helen xxx

pinktoes Says:
Sunday, June 28, 2009 @8:43:32 AM
Thouhgt it was you playing and was going to say 'I hate you' cos I'm jealous. banjo sounds lovely. Can't wait to meet 'him'.!!! Still ploughing on with 'Song for Pauline' will get there in the end I hope. XXX

buckbybanjoboy Says:
Sunday, June 28, 2009 @2:06:38 PM
Sounds a great banjo to me, Jane, and it looks so cool too with the black head.
Joe can certainly pick` em.
Regards Peter V.

dgill Says:
Sunday, July 5, 2009 @7:07:36 AM
Great stuff. You are very lucky to have Joe close to you. Thanks for sharing with us.

John M. Says:
Thursday, December 24, 2009 @10:59:02 AM
Very nice sounding banjo and I really like the way you play the main theme of Clinch Mt. Backstep.

John
You must sign into your myHangout account before you can post comments.