Posted by Don Borchelt
[download]
- Play count: 1730
Size: 3,012kb, uploaded 6/7/2009 8:36:46 PM
Genre: Bluegrass / Playing Style: Bluegrass (Scruggs)
This tune is from a later version of Wry Whiskey, with Richie Chaisson playing reso-guitar, and Gene Ketelhohn playing guitar. Tom Speth is on bass, and I am playing my semi-fretless Paramount, in open D tuning. We were playing on stage somewhere, around 1999, I would guess, but I don't remember where.
---
10 comments on "Panhandle Rag with Wry Whiskey"
Greg Connor Says:
Monday, June 8, 2009 @6:54:54 AM
Every Song is a Treat Don!
This is extremely clean for a live perfomance.
Another Great Song Don!

strokestyle Says:
Monday, June 8, 2009 @12:02:40 PM
You know I recently played my first rag and I have had a great time playing the few rags I have learned since. You mentioned to me that it could become addicting! Yours is really fun to listen to, thanks for posting.

jimh269b Says:
Monday, June 8, 2009 @2:45:58 PM
he is a man who knows his pickin real great job don

dgill Says:
Monday, June 8, 2009 @5:06:33 PM
Very nice Don, differrent than what I am use to, but I really enjoyed the sound. Thanks.

dbrooks Says:
Tuesday, June 9, 2009 @10:02:13 AM
Great tune and great performance, Don. That banjo sounds great, and your playing really captures the spirit of the tune.

Rick Woods Says:
Wednesday, June 10, 2009 @2:27:22 PM
I can't find the words to express the awe that I am in right now. Great old time sound that I could listen to all day.
We want more like that for sure. Great job by everone of you. Thanks so much for sharing these fine tunes.

flange5st Says:
Saturday, June 20, 2009 @5:30:41 PM
......Don, you're a Panhandle pickin rascal.......that is good stuff, especially the slides and string bends and melodic riffs!!.........when are you going to do an instruction video so I can learn some of that?..peace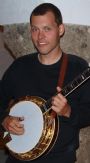 Violanjo Says:
Friday, July 10, 2009 @2:27:48 AM
I am impressed. Great dobro great banjo pickin! I especially like the sound of that banjo.................Manuel

royce Says:
Thursday, July 16, 2009 @2:54:44 PM
Don,,
Everything you do is Very Good. You are one of my favorites..

mainejohn Says:
Thursday, June 23, 2011 @4:22:32 PM
That could go on forever..........
You must sign into your myHangout account before you can post comments.