Posted by pearcemusic
[download]
- Play count: 1497
Size: 4,637kb, uploaded 6/2/2009 12:06:52 PM
Genre: Unknown/None Chosen / Playing Style: Other
Weather Report for the 5 string banjo .... Electric Bass, Rhythm box and 5 string banjo ..... played on my Tuttle Mahogany fretmaster ..... basically a Bela type banjo with an FQMS old growth rim and thunderbolt tone ring
---

f#dead Says:
Tuesday, June 2, 2009 @12:26:52 PM
I like it. I used to listen WReport for skiing... on my sony walkman cassette player. I'm no fan of fast for fast sake but you channeled WR well. thnx for posting.

plunka5 Says:
Tuesday, June 2, 2009 @1:25:55 PM
Doub, great job! Thanks for sharing...what banjo are you using for this recording? Sounds great!

pearcemusic Says:
Tuesday, June 2, 2009 @2:15:24 PM
it's my Tuttle Mahogany fretmaster ..... basically a Bela type banjo with an FQMS old growth rim and thunderbolt tone ring

thanks for listening !!1

NMD Says:
Tuesday, June 2, 2009 @8:44:55 PM
Outstanding! Really enjoyed the Manhattan Trasnfer singing this. You've really done it justice.

Retropicker Says:
Wednesday, June 3, 2009 @5:22:04 AM
That's really well done. Smooth and fun!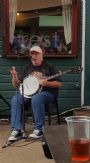 joemac Says:
Thursday, June 4, 2009 @1:12:43 PM
Brilliant !.......Joe

Don Borchelt Says:
Saturday, June 13, 2009 @6:32:57 PM
Awesome, amazing too.

claybanjo Says:
Saturday, June 27, 2009 @7:44:37 AM
Just Great! ..... Eric

Tuneager Says:
Monday, December 7, 2009 @5:58:02 PM
I love hearing the banjo take on challenging material like this and heading off for parts unknown.

Very cool version of a great song!

zRam Says:
Sunday, February 28, 2010 @3:34:54 PM
Wow. great job! loved it.

Leigh Says:
Saturday, June 19, 2010 @3:31:06 PM
Love Jaco's bass line on this tune, (almost wore the grooves out of the original vinyl). What great playing. Thanks for posting!

rfrizzle2 Says:
Tuesday, January 25, 2011 @6:58:01 PM
Awsome,Awsome,Awsome Can I get the tab and the bagroumusic or as they might call it the backtrack?
thankyou Rich Freeze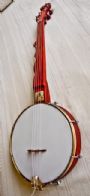 sport Says:
Friday, May 20, 2011 @11:07:17 PM
Superb- after years of enjoying the guitar version- Only now hearing this banjo rendition do I realize why it is called birdland, as your banjo playjng and chirping really brings out the bird nuance
Thanks for the posts
f Kevin

Spoekenkieker Says:
Thursday, September 5, 2013 @9:50:43 AM
SO beautiful, thanks a lot!

<3

Greetings, Tom
You must sign into your myHangout account before you can post comments.