Posted by Don Borchelt, written by Fred Rose
[download]
- Play count: 2493
Size: 2,970kb, uploaded 5/28/2009 4:17:20 PM
Genre: Old Time / Playing Style: Clawhammer and Old-Time
Well, since you all tolerated my singing on that last one, I thought I'd post another from my days some ten years ago picking with Brian Clancey and Tom Speth. This is not your 'grass Fireball Mail, I'm afraid. Brian is playing finger style guitar here, a sound I really like with three-finger style banjo. Banjo is a semi-fretless Paramount in open D.
---
11 comments on "Fireball Mail with Wry Whiskey"

buckbybanjoboy Says:
Thursday, May 28, 2009 @4:35:34 PM
Hello Don. This sounds mighty fine to me. I too like your combination with the finger-style guitar, it really suits the song. Regards Peter V

jimh269b Says:
Thursday, May 28, 2009 @5:27:14 PM
now you have out done your self just a greattttttttttttttttttt gob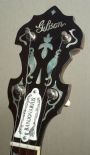 rb4player Says:
Friday, May 29, 2009 @6:12:21 PM
Very nice, indeed. Great playing Don! Most engaging FM I've heard in years.

ELWOOD Says:
Friday, May 29, 2009 @6:34:40 PM
Don, this is the kind of open D pickin' that can turn the head of a clawguy to the dark side, I am into it now with this darn'd old Golden Era (1994) . My my but thoes notes come fast and clean. must get back to practicing that old forward roll , I'll get it soon...........................Elwood Great job on this one 5 stars Steve

Hunter Robertson Says:
Saturday, May 30, 2009 @4:05:08 AM
Man Don, that is good. Hunter

Yard Onion Says:
Saturday, May 30, 2009 @6:30:16 AM
What a great version Don! I'll give her 5 stars also!
Jon

Rick Woods Says:
Wednesday, June 3, 2009 @3:45:37 AM
By far the BEST version I have ever heard. FANTASTIC!

RatLer Says:
Monday, July 6, 2009 @7:12:01 AM
Really enjoyed that Don, great vocal too...!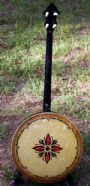 banjoplyr. Says:
Sunday, December 27, 2009 @10:40:13 AM
Awesome Don,a great version ,love it.

Erbus Says:
Tuesday, March 16, 2010 @10:40:22 AM
I love your arrangement of this song, what a great sound. I gonna have to work on getting something similar to your style.
I am presently learning your arrangement of Deep River Blues, great version.
Terry

rickhayes Says:
Friday, August 31, 2012 @8:53:21 AM
Sounding good Don, as usual. Different take and different sound in D.
You must sign into your myHangout account before you can post comments.