Posted by Huntndux
[download]
- Play count: 739
Size: 825kb, uploaded 5/3/2009 8:34:49 PM
Genre: Unknown/None Chosen / Playing Style: Bluegrass (Scruggs)
Its sloppy and I just learned it, but I like the song....Im sortcutting the hard licks until I can get them in there smooth...That may be never. Its on my Huber Lancaster
---
5 comments on "New Camptown Races"

John Kuhn Says:
Monday, May 4, 2009 @5:42:33 AM
Hey Bobby,ya got some good ideas going on .Like the Gm phrasing!Im sure you'll smooth those parts out and sort through what ya want and dont want.Hey, we been doing it since 78..LOL. John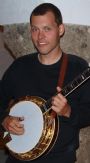 Violanjo Says:
Monday, May 4, 2009 @1:44:28 PM
You have got some nice ideas going on there. Strong pickin and I like the sound of your lancaster. I am picking a custom mills model.

clinch1 Says:
Friday, May 8, 2009 @2:15:30 AM
That was simply the best picking I've heard so far on this website. I love that song and that was fantastic.

Don Borchelt Says:
Saturday, May 9, 2009 @7:15:53 PM
Smooth, tight, crisp picking, banjo like it should be. It doesn't sound sloppy to me, you're being too self-deprecating. Nice work.

Rick Woods Says:
Wednesday, May 13, 2009 @12:51:37 PM
Very crisp and clean. That Huber sounds good to me, but then again it could be the picker!
You must sign into your myHangout account before you can post comments.