Posted by Jaminbanjo
[download]
- Play count: 1051
Size: 1,299kb, uploaded 4/23/2009 8:45:51 AM
Genre: Unknown/None Chosen / Playing Style: Bluegrass (Scruggs)
Banjo with guitar backup and a guitar lead break. I also added the bass. Once again; Me, Myself and I. ;) Hope you like it.
---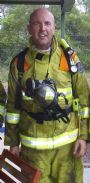 Alan Hill Says:
Friday, May 1, 2009 @11:44:29 PM
Wow when is the album coming out ? i have just come in from doing some hard graft on my swimming pool refurb and put this on and it has taken my mind off my back ache great stuff !

Jaminbanjo Says:
Saturday, May 2, 2009 @6:38:26 AM
Thanks!! I'd like to make a CD someday.

Don Borchelt Says:
Monday, May 4, 2009 @4:44:29 AM
Nicely played. You have a good roll going there. The guitar break is really fine, great work.

FarmerBoy Says:
Friday, June 12, 2009 @8:43:48 AM
Greatly played!!!

BanjoPicker96 Says:
Sunday, August 2, 2009 @6:23:33 PM
Toetappin' good!
You must sign into your myHangout account before you can post comments.