Posted by Violanjo
[download]
- Play count: 1112
Size: 4,982kb, uploaded 4/15/2009 1:59:53 PM
Genre: Bluegrass / Playing Style: Bluegrass (Scruggs)
I do not like my old recording of JJ anymore so I decided to come up with a new version which features more variations. At first you hear the melody in half speed using double stops on banjo. Than I pick a standard bluegrassbreak in the key of G followed by a fiddle break in the same key. Now I switch back to the key of D and I pick the solo you might know from my old recording. To round it up I finish the song by using the double stop melody on fiddle. A tab of the break in the key of D is provided in the photo section on my account. Hope you like it. Picked on the HUBER BANJO.
---
6 comments on "Jesse James (Fiddle and Banjo)"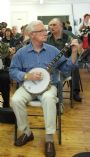 ummy123 Says:
Wednesday, April 15, 2009 @2:19:29 PM
So many moods which take an old tune to new levels. Good listening and well played.
Ummy 123.

royce Says:
Tuesday, April 21, 2009 @4:49:56 PM
I enjoyed that. Very nice job on both the fiddle and banjo. Mr Huber is gonna have to give you an endoresement soon.
Royce

Okie Pirate Says:
Friday, June 19, 2009 @6:56:40 AM
Very Cool. Nice version of the song, different than any other version I've heard. We need you to move to Oklahoma.

Karen Kruske Says:
Sunday, November 7, 2010 @4:37:20 AM
Great version. The fiddle is so mornfull, then the banjo adds a different mood...and if not Oklahoma, then Michigan!!!

banjobruce Says:
Friday, January 14, 2011 @11:35:23 AM
Brilliant!

Debs Says:
Thursday, October 31, 2013 @2:19:15 PM
Just brilliant! I absolutely love this!
You must sign into your myHangout account before you can post comments.