Posted by pelowt
[download]
- Play count: 362
Size: 2,399kb, uploaded 4/3/2009 9:13:12 PM
Genre: Unknown/None Chosen / Playing Style: Bluegrass (Scruggs)
Wrote this one a few years ago on my deering crossfire
---
3 comments on "Cruise Control"

Blake507 Says:
Friday, April 3, 2009 @10:03:25 PM
Very Good!!!!!!!!!!!! Send me the tab............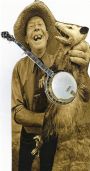 My Golden Says:
Friday, April 3, 2009 @10:22:04 PM
Interesting banjo sound. I have never heard the crossfire. Good playing! How did you get that train sound?

pelowt Says:
Monday, April 6, 2009 @9:44:56 AM
Hi My Golden...I got the train sound with the guitar. I needed something to transition the stop so I had my brother muffle the strings (chuga chuga). As for the sound of the crossfire, I plugged it directly into the four-track recorder I had access to which kept it very plain. If you plug into an amp you can change the sound infinitely and also use any guitar effects on it.
You must sign into your myHangout account before you can post comments.