Posted by PaulKirby
[download]
- Play count: 580
Size: 3,735kb, uploaded 3/25/2009 8:56:15 AM
Genre: Unknown/None Chosen / Playing Style: Bluegrass (Scruggs)
rehearsal of the Ellington tune, Caravan.
---

robin jones Says:
Wednesday, March 25, 2009 @9:51:56 AM
Outstanding buddy! Your are really getting good right before my ears. Thanks for sharing. I'm gonna fool with this one for sure.

frailin Says:
Thursday, March 26, 2009 @6:53:17 AM
WOW, Paul!! This is GREAT!!!

Craig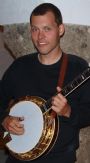 Violanjo Says:
Thursday, March 26, 2009 @2:55:06 PM
Great picking, great bowing - all I need to be happy!

Violanjo
banjopicker47 Says:
Thursday, April 16, 2009 @12:25:02 PM
great pickin", one of my favorite JASS songs

John M. Says:
Thursday, December 24, 2009 @12:50:59 PM
I like the banjo arrangement of this a lot and when the fiddle and banjo pick it up together in the second half.
You must sign into your myHangout account before you can post comments.