Posted by royce
[download]
- Play count: 2155
Size: 1,045kb, uploaded 12/21/2006 11:01:36 PM
Genre: Unknown/None Chosen / Playing Style: Unknown/None Chosen
A short version of a cool fiddle tune. I played all the instruments.
---

adamaj Says:
Sunday, December 24, 2006 @11:17:33 AM
Awesome job as usual, Royce.

pick1936 Says:
Tuesday, December 26, 2006 @3:06:36 PM
A very good job as usual, keep up the good pickin, and THANKS much.
pick 1936

Don Borchelt Says:
Sunday, August 30, 2009 @7:49:59 PM
Another awesome job from the Rolls Royce of bluegrass banjo. How did I miss this one?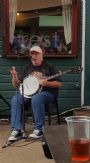 joemac Says:
Monday, February 15, 2010 @3:40:38 AM
absolutely superb, mate my day, thanks

Jonno B Says:
Monday, February 15, 2010 @5:51:50 AM
Great pickin' mate. You say on your bio that your experience level is NOVICE. I think you had better alter that to expert. Great sound.
You must sign into your myHangout account before you can post comments.