Written/Posted by ELWOOD
[download]
- Play count: 547
Size: 2,625kb, uploaded 3/14/2009 7:03:28 PM
Genre: Old Time / Playing Style: Clawhammer and Old-Time
Banjo, Guitar, Voice, Written by Steve Krell, Celebrating Americans Mistrust of thier Goverments' abilities to do any thing right the first time
---
10 comments on "Banjo Dog/ Original tune"

john fincher Says:
Monday, March 16, 2009 @6:12:14 AM
I think that this is an excellent song.
Greg Connor Says:
Monday, March 16, 2009 @7:21:56 AM
Great Lyrics Steve!
I like your playing on this one, and your new recording equipment sounds excellent.

FiddlerFaddler Says:
Monday, March 16, 2009 @10:25:01 AM
I like it! The banjo part really shines and the melody is modest, but an effective carrier of the lyrics. Nice lyrics too.

Your song makes me want to invest in kerosene lamps. Maybe that's something to consider for the coming financial system meltdown.

ELWOOD Says:
Wednesday, April 29, 2009 @5:21:10 AM
Hi guys thanx for listening, this tune is fun to do and I like voice and banjo together, I've tryd other things on BHO but my first love is clawhammer and solo voice........................................Steve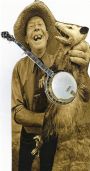 My Golden Says:
Saturday, May 9, 2009 @9:22:31 PM
Another great tune...love the lyrics, and title! You and Greg ought to record together. You both are very talented. Being a western gal at heart, I can identify with your tunes. Keep it up!

ELWOOD Says:
Sunday, May 10, 2009 @7:55:28 PM
Thanx Terry, I am fascinated by the American cowboy and the Western culture,some how the cowboy sense of humor has infected this transplated Michigan boy .I too have a western heart............Steve

dannnjo Says:
Thursday, June 25, 2009 @1:21:03 AM
wonderful band and easy listening
Keep it going
Dan

ELWOOD Says:
Saturday, December 5, 2009 @12:56:29 PM
Hey ,Dannnjo, Iam glad you liked it , I just do this cuz its on my mind and anytime others can hear me I dont feel alone.

strokestyle Says:
Saturday, January 30, 2010 @8:20:33 AM
Yep another good one! It's so cool you can put all this down all by yourself using your banjo brain.
Frailblazer Says:
Monday, April 5, 2010 @12:33:15 PM
Great tune Steve and terrific playing!
You must sign into your myHangout account before you can post comments.