Posted by carteru93
[download]
- Play count: 1017
Size: 937kb, uploaded 2/25/2009 4:27:03 PM
Genre: Bluegrass / Playing Style: Bluegrass (Scruggs)
With a Reno lick! Although you wouldn't know if I didn't tell ya, sorry Don!
---
2 comments on "Lonesome Pine Breakdown"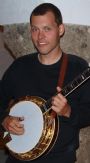 Violanjo Says:
Thursday, February 26, 2009 @7:39:17 AM
Yeah, I like those licks especially the one with the triplets. Your banjo has a great sound by the way.

Cheers

Violanjo (Manuel)

banjomikey Says:
Thursday, February 26, 2009 @5:48:38 PM
Dude! You're killin me Carter! You sound awesome bud! You have qualities in your tone and dynamics that some musician's never achieve in their entire life! You have a gift and obviously put your heart into your playing! You've surpassed me in two years and I've been playing for 6! We all learn at our own rate, but I'm confident that great musical things await you my friend! Keep going and I think you'll be one of the greats someday!
You must sign into your myHangout account before you can post comments.