Posted by pelowt
[download]
- Play count: 411
Size: 2,042kb, uploaded 2/25/2009 9:55:15 AM
Genre: Unknown/None Chosen / Playing Style: Bluegrass (Scruggs)
Hi, this is my second upload. I play all the instruments and wrote it while watching the sunset on my front porch. Enjoy! Ted
---

thilo-w Says:
Wednesday, February 25, 2009 @10:04:05 AM
Very great! 5 stars for this!

pelowt Says:
Wednesday, February 25, 2009 @12:18:07 PM
Thanks thilo-w. I'm glad you liked it. I'm slowly trying to record on the computer but it all takes time. Hopefully I'll be able to add more soon.
Greg Connor Says:
Wednesday, February 25, 2009 @1:08:01 PM
Nice original tune.

MrNatch3L Says:
Wednesday, February 25, 2009 @1:51:57 PM
Enjoyed that. Liked the unusual rhythmic motif behind the banjo. What tuning is that? Sounded a little like double C. It's great that new music for the banjo is showing up on the Hangout. Keep it coming!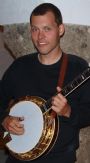 Violanjo Says:
Wednesday, February 25, 2009 @2:45:48 PM
Yeah, this will be a part of my collection of great banjo music! Very creative!

pelowt Says:
Thursday, February 26, 2009 @4:37:45 AM
Thank you all for the positive comments. To answer MrNatch3L the song is in a standard C tuning.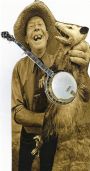 My Golden Says:
Friday, April 3, 2009 @10:26:15 PM
This is all different to my ears, but I like it! Reminds me of how Bela plays. You definitely got your own style! Good pickin!

banjobrennan Says:
Saturday, May 30, 2009 @9:11:56 AM
Very good! I very much enjoyed that... you don't happen to have the tabs for it do you?

pelowt Says:
Sunday, June 14, 2009 @7:18:49 PM
Hi banjobrennan, Sorry it took so long to get back to you. I've been away on vacation and just got back. Unfortunately I don't have the tab for it. I'm very slow at writing tab but if you'd like to try it, I can look it over. I'm happy to hear all the feedback. I'll upload more soon.
You must sign into your myHangout account before you can post comments.