Posted by Greg Connor
[download]
- Play count: 356
Size: 4,657kb, uploaded 2/21/2009 2:24:15 PM
Genre: Unknown/None Chosen / Playing Style: Other
Original Song - using Gibson J-200 Guitar, Deering Vega Senato Banjo, Fender Jazz Bass, and Irish Whistle. Let's not forget my usual croaking.
---
4 comments on "Everyone is Irish On St Patrick's Day"

kcjc69 Says:
Saturday, February 21, 2009 @8:54:13 PM
Thanks for another great tune Greg. May Irish eyes smile upon you everyday.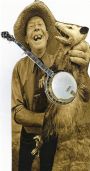 My Golden Says:
Tuesday, February 24, 2009 @12:05:36 PM
What a great down home Irish tune! I like your voice with guitar & banjo. The flute is very pretty with other instruments. May you continue writing these close to me heart tunes!

Don Borchelt Says:
Wednesday, March 4, 2009 @3:33:32 AM
Great songwriting and great performance. Where I work, everyone is Irish everyday except me. All the politicians, anyway. I'm thinking about learning this, for protection. Sure beats Irish Eyes Are Smiling! Actually I'm about 1/4 Irish.

Ize_B_Pickin Says:
Wednesday, June 17, 2009 @5:30:22 AM
So true!
You must sign into your myHangout account before you can post comments.