Posted by RatLer
[download]
- Play count: 545
Size: 2,309kb, uploaded 2/11/2009 11:39:14 AM
Genre: Old Time / Playing Style: Clawhammer and Old-Time
With vocal
---
6 comments on "Columbus Stockade Blues"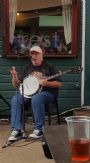 joemac Says:
Thursday, February 12, 2009 @9:16:24 AM
lovely Greg, keep em commin.....Joe
Greg Connor Says:
Friday, February 13, 2009 @7:26:14 PM
Great tune Greg!
Nicely played too!

Pluckin Mutha Says:
Monday, April 20, 2009 @9:21:49 AM
Another keeper. I like the straight ahead frailin' style. I enjoy the vocal too. So many just post instrumentals. The voice and banjo make a performance complete.

Salt Licks Says:
Tuesday, May 24, 2011 @4:00:05 PM
Great to hear you Greg, thanks Charlie. Salt Licks

RatLer Says:
Tuesday, May 24, 2011 @5:21:29 PM
Thanks for listening ,Salt Licks. Glad you enjoyed it!!

dgill Says:
Tuesday, May 24, 2011 @6:34:55 PM
Mighty fine RatLer, I really enjoyed this one. I am taking to Clawhammer more and more all the time and your added vocals made this a real nice piece.
You must sign into your myHangout account before you can post comments.