Posted by fivestring1951
[download]
- Play count: 1042
Size: 2,435kb, uploaded 2/4/2009 5:10:18 AM
Genre: Unknown/None Chosen / Playing Style: Bluegrass (Scruggs)
---
4 comments on "In The Sweet By and By"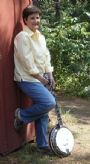 Banjosnob Says:
Wednesday, February 4, 2009 @6:12:10 AM
beautiful! I am working on the same song, but yours sound ALOT better!!!

MrNatch3L Says:
Thursday, February 5, 2009 @8:53:16 AM
Very nice. Looks like you're another "play some of everything" guy like me (and a fellow Bishline owner!) What kind of Dobro is that - it sounds good. You're not far from Cincinnati (I'm a former Cleveland boy). Do you ever get up to the Comet? Hope you will be posting some more. Cheers.

Rick Woods Says:
Thursday, February 5, 2009 @1:06:22 PM
A fine job Steve. An inspiration to all of us that have a long way to go. Thanks for posting and we would sure like to hear more.

grandpa_dave Says:
Saturday, February 7, 2009 @2:58:37 PM
Great work Steve. Nice mix of instruments and banjo work.
You must sign into your myHangout account before you can post comments.