Posted by Shilohbanjoman, written by Robert Johnson
[download]
- Play count: 184
Size: 2,894kb, uploaded 1/20/2009 12:29:48 AM
Genre: Classical / Playing Style: Other
The alman was an English dance from the Renaissance period. This version is one of the most famous. It was written by Robert Johnson. It is for solo guitar despite it's contrapuntal quality. Here I perform it using a Taylor Nylon Series guitar.
---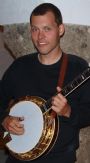 Violanjo Says:
Saturday, September 19, 2009 @11:21:32 AM
I enjoy those melodic lines. Nice contrapunctal work. I guess this requires some tricky left hand fingerings?

Shilohbanjoman Says:
Sunday, September 20, 2009 @8:21:45 AM
It's a tricky piece when you first learn it. Once you get the feel for it, however, it really isn't that hard to play. Thanks for the compliment.
You must sign into your myHangout account before you can post comments.