Posted by pearcemusic
[download]
- Play count: 303
Size: 5,202kb, uploaded 1/2/2009 7:10:58 AM
Genre: Unknown/None Chosen / Playing Style: Other
This was arranged and recorded by my family band a few years ago, and is on our 2nd CD. A FREEBIE for you guys and gals !!! It's kinda long ... from Bach's Well Temp Clav prelude (#2, I think) in Cm. The arrangement is goofy, but we had fun ... and the playing is a little funky, but we've gotten better since then ... practice practice practice !!!
---
6 comments on "johann's breakdown"
Jody Hughes Says:
Monday, January 19, 2009 @8:01:29 AM
Nicely done

Gary Lee Says:
Friday, March 27, 2009 @12:33:14 AM
I have to say, after 30 seconds or so into the banjo solo, I had worked up a saturating sweat whilst I was doing a break dance....your arrangement lite me up....

pearcemusic Says:
Friday, March 27, 2009 @9:29:35 AM
thanks Gary ... and Jody

smoke and mirrors, ya know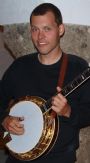 Violanjo Says:
Sunday, April 26, 2009 @10:24:28 AM
Wow! this is a great work! Perfect arrangement, stunning playing and good recording work.

Tuneager Says:
Thursday, December 10, 2009 @10:18:30 PM
Very cool, impeccable, what a talented family.
This goes up there on my list of favorite banjo tunes!

banjo321 Says:
Tuesday, June 10, 2014 @10:39:23 AM
that's really good!!!!
You must sign into your myHangout account before you can post comments.