Posted by Violanjo
[download]
- Play count: 1946
Size: 6,966kb, uploaded 12/13/2008 6:39:46 AM
Genre: Bluegrass / Playing Style: Bluegrass (Scruggs)
Do you have time for 6 minutes? Here is my version of Blackberry Blossom. It is a standard piece but I have done some non standard things. It features a slow classical intro and ending and a bluegrassy middle section. Its me on both Fiddle or Violin and Banjo. Hope you enjoy. This recording is dedicated to all my friends on the BHO! Picked on the HUBER BANJO.
---
9 comments on "Blackberry Blossom (Picking and Bowing)"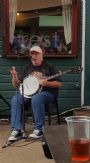 joemac Says:
Saturday, December 13, 2008 @9:47:57 AM
Thrilling, inspiring, just wonderful. this tops off a good year of music here on hangout.......a very merry xmas to you Manuel.....Joe

thilo-w Says:
Saturday, December 13, 2008 @10:12:04 AM
Manuel, das klingt GROSSARTIG!!!

Ricky-T-jo Says:
Saturday, December 13, 2008 @10:12:29 AM
That is a bad job @#$%?&*. How did you come up with something like that! I hate huber banjo's and all their tones. Their banjo's are completely bad and anctuously rediculously ringing out there good for nothing parts and etc...
That tune is wonderful! Great job !

dpete210 Says:
Saturday, December 13, 2008 @12:41:55 PM
Manuel, great performance. Not only does your banjo sound great, but you play very well. You are very talented. Best wishes!

John Kuhn Says:
Saturday, December 20, 2008 @12:58:03 PM
Yeah , Im gonna agree with Joe.Now, what are ya gonna do now to top THIS?.OHH, that was a dumb question now wasnt it?..LOL.Im SURE your already workin on IT..LOL.Hey man ,excellent as always.Many moods covered.Incredible RH control changin speeds!!! Another Masterpiece !!!...john

brundecarli Says:
Sunday, December 21, 2008 @1:31:09 AM
Excellent job, great performance.Masterpiece!!! Bruno

fergaloh Says:
Saturday, January 17, 2009 @10:54:25 AM
Great stuff. Great arrangment, great playin.

Tuneager Says:
Wednesday, December 30, 2009 @8:12:28 AM
You've done something not many can.
You've carved out your own niche and style!
Love the double harmony banjo part too!

jRook22 Says:
Tuesday, May 18, 2010 @4:00:10 AM
Loved It great pickin and awsome sounding banjo I hope my Mills Model sounds half that good when steve finishes it. Does yours have the HR 30 ring?
You must sign into your myHangout account before you can post comments.