Posted by MarkJohnson
[download]
- Play count: 1050
Size: 5,407kb, uploaded 12/10/2008 4:11:52 PM
Genre: Unknown/None Chosen / Playing Style: Unknown/None Chosen
One of my all time favorite celtic tunes that my friend Rik Barron taught me while visiting and recording with him and his lovely family up in Prince Edward Island, CANADA Rik has a great clawhammer banjo version of Foggy Dew and Sally in the Garden on his Powerful "Bound for the Ice" CD and was the inspiration for my version of "Foggy Dew" recorded with with Emory Lester/Guitar on our "Acoustic Campaign" CD 2003
---

salvatone Says:
Thursday, December 11, 2008 @7:19:37 AM
Holy cow. The parallel harmonies at 1:30 are really cool. Thanks.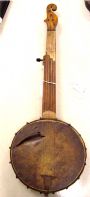 Kitt Says:
Saturday, December 13, 2008 @5:23:04 AM
Beautiful. You might want to make it directly known in the 'Tuna the Week' thread that you've recorded and posted that, since Foggy Dew is the 'Tuna the Week.

rtyrie Says:
Wednesday, December 17, 2008 @3:52:49 PM
Great tunes as always brother!
Ron

MiG-19 Says:
Saturday, December 20, 2008 @7:07:25 PM
That sounds GREAT!

jimh269b Says:
Saturday, July 4, 2009 @2:33:13 PM
dang fine job mark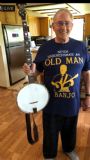 hudie Says:
Tuesday, July 23, 2013 @1:57:13 PM
Does not get any better than this. Mark is in a league of his own. Major League Banjo!
You must sign into your myHangout account before you can post comments.