Posted by Greg Connor
[download]
- Play count: 1004
Size: 3,460kb, uploaded 12/3/2008 4:20:41 PM
Genre: Unknown/None Chosen / Playing Style: Other
Original Instrumental by Greg Connor - Banjo, Guitar, Bass
---
14 comments on "A Winter's Chill - Original"
Sean ONeel Says:
Wednesday, December 3, 2008 @9:20:08 PM
Nicely done, Greg!
From a musical standpoint I "feel" the sparseness of the season. As a professional audio producer, I think you are getting great proximity out of your new mics. I would say be a little more bold with your stereo image, maybe a tiny bit less compression and bring the bass up a bit in your mix.
But I like it...a lot!

thilo-w Says:
Thursday, December 4, 2008 @4:11:35 AM
A nice tune, a great sound!
Well done!

ELWOOD Says:
Thursday, December 4, 2008 @2:31:43 PM
I am a fan,I like your style,always look forward to your originals. Nice going Greg it,s snowing at the bride today take care..............................Steve

dpete210 Says:
Friday, December 5, 2008 @9:37:00 AM
Hi Greg, Nice job! Kind of a melancholy feel. Without snow yet and it's already December, that mood pretty much describes for me the present landscape around these parts. Your guitar and banjo sound really nice! Dave Peterson

mainejohn Says:
Monday, December 15, 2008 @4:34:19 PM
That was great...I envy you. I just can't come up with my own stuff...it takes aspecial talent.
Ottawa Says:
Wednesday, January 14, 2009 @8:55:40 PM
I love this too. Keep posting. How many originals would you say you have, anyway? This is what music is about. You make beautiful music. Steven in Ottawa.

mateo Says:
Friday, January 30, 2009 @8:19:09 PM
Great Stuff. I can tell you enjoy writing. Its like opening up at a gateway to our inner most feelings.

Keep 'em coming.

m.

kcjc69 Says:
Saturday, February 7, 2009 @4:58:03 AM
Nice original! I love the slow banjo tunes. They just seem to punctuate the feelings that the composer was trying to get across.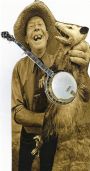 My Golden Says:
Thursday, March 12, 2009 @7:03:29 PM
Very pretty! Relaxing and peaceful banjo playing. You are a talented songwriter/singer/instrumentalist. Do you have any CD's of all your tunes?

aletheia Says:
Sunday, March 29, 2009 @5:48:53 AM
These slow banjo songs open up a whole new world for me in the realm of picking. Can't wait to jog to this tomorrow...

darryl k. Says:
Thursday, May 28, 2009 @11:59:45 AM
Very Sweet.
This should go onto my ipod....which I don't have yet ! Hit replay. Reminds me of Jens Kruger " The Bridge". If you don't have this cd. get it.
darryl

john fincher Says:
Saturday, September 25, 2010 @9:00:42 AM
Very nice indeed. It reminds me of Hank Marvin.

stanger Says:
Thursday, February 24, 2011 @2:41:18 PM
Very, very fine! I'm listening on a winter's day, and the music is a perfect reflection of it.

banjoy Says:
Monday, January 30, 2012 @8:54:06 AM
Very very enjoyable
You must sign into your myHangout account before you can post comments.