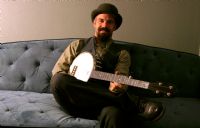 Luthier Since: 2007
Listing Created: 6/14/2018
Listing Updated: 2/19/2020
More About Me
I've played instruments my entire life, but around 2005, I began playing fiddle. I started wanting to work on them during that early time. Later, I wanted a banjo but couldn't afford a good one, so I built one. After that, I was told that I should build banjos and sell...so that's what I do now. I started my banjo company in 2012 but took a short break from 2013 to 2016 when I moved to Alaska. Then after returning to Missouri in 2016, I started back up officially incorporating Snowbird Banjo Company, LLC in 2018. You can learn more about my banjos at www.snowbirdbanjo.com

In July 2019, I was featured in the Rural Missouri electric coop magazine "Picking up Steam" which can be found online where we discussed the story of Snowbird Banjo Co and where I was going to take the company.

I repair all stringed instruments as well.