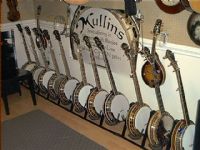 Luthier Since: 1976
Listing Created: 6/5/2012
Listing Updated: 6/14/2019
More About Me
I have been building and restoring banjos for 43 years...I build my first "Mullins" banjo in 1976....This was just a hobby for many years until I retired in 1994....I have been going ever since and see so signs of quitting....I love the banjo and the enjoyment I get from seeing other people enjoy my banjos....I am in northeast Tennessee and I can be reached most anytime at 423-282-1954.
Comments
Hi Clancy I noticed that you will sometimes sell a rough banjo neck I am a woodworker and I have been playing banjo for awhile I gve it up for awhile when I started devolping Dupraines Sydrome ... fancy word for my left hand started staying clinched towards my palm ... I had the surgery and took up banjo again ... mostly therpy for my hand ... anyway thats my story stickin to it ... do you have a rough neck I have a Malaga banjo which has a small fret board I am playing until I can afford a better banjo GPC - GrandPa Corn
You must sign into your myHangout account before you can post comments.