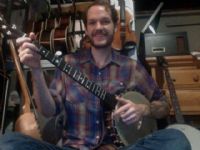 Luthier Since: 2012
Listing Created: 5/11/2019
Listing Updated: 5/11/2019
More About Me
Professional quality repairs and handmade Gourd banjos.
Comments
Trey is an excellent luthier and works in one of the best shops in the mid-west, if not the country. Trey is the only person that has worked on and set up all my stringed instruments. I would not let anyone else touch my banjos. - spini
You must sign into your myHangout account before you can post comments.