I just got a very nice note from Donald Nitchie, editor of the Banjo Newsletter at: http://www.banjonews.com.
He asked me to contribute banjo news articles for a "Banjos in the News" feature for the Banjo Newsletter website. One day I hope to be known for playing the banjo rather than writing about it but this is a start anyway!
I am really proud to contribue to this fantastic newsletter.
---
4 comments on "I will be contributing to the Banjo Newsletter!!!"

Kester Says:
Monday, October 13, 2008 @10:01:59 AM
Congratulations, you have the right penmanship for the job. You write outstanding blogs.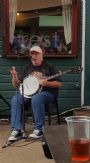 joemac Says:
Monday, October 13, 2008 @1:57:43 PM
good on ya Dan!!.....give the old UK boys a mention if you can, seriously,good luck..Joe

dbrooks Says:
Tuesday, October 14, 2008 @5:20:52 AM
Congratulations, Dan. That sounds like a great addition to BNL. I've had the good fortune to write a couple of articles lately, and Don Nitchie is just a great guy to workl with. I look forward to your articles.

banjo_on_the_lump Says:
Thursday, October 16, 2008 @12:30:21 PM
WOW! Wish you well with pennin' as well as and pickin'. Congrats.
You must sign into your myHangout account before you can post comments.