Well I finally managed to get a few video made up for you guys and gals to check out.
http://www.youtube.com/user/traildust32
They are far from great and not my best work at all but they are there and its me. Nothing fancy, just simple songs I have learned. The sound is only so so because my Gold star is a bit much for the mic on my camera. Even with all that considered I would appreciate your comments. Thanks. Mike
---
3 comments on "My first videos on Youtube"

bob gregory Says:
Thursday, July 10, 2008 @12:00:08 AM
g'day mate , that was good keep it up hopefully we will hear more soon. thanks bob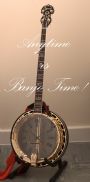 ragitty Says:
Thursday, July 10, 2008 @4:28:45 AM
Hey mike you play very well indeed, enjoyed your music very much, :)

Banjopickinmike Says:
Thursday, July 10, 2008 @10:05:01 AM
Thanks guys, I can honestly say that I can do better on those to songs then I did there but it just wasn't my day I guess.
You must sign into your myHangout account before you can post comments.